Complications of Cataract Surgery: Cause and Treatment.
Planning for a Smoother Recovery from Cataract Operation.
While cataract surgery and intraocular lens implantation is one of the most common and safest operations, serious complications can and do occur. Even the best, most experienced cataract surgeons can occasionally have a complication. If, for instance, the lens capsule ruptures during the procedure, fragments of the native lens or the lens implant itself can fall back into the vitreous cavity. Pars plana vitrectomy surgery is used to repair retained lens fragments or dislocated lenses. Intraocular lens implant removal and/or repositioning may also be necessary at this time. This procedure can be performed after the initial cataract surgery once the intraocular inflammation lessens with the help of topical medications. If the intraocular pressure is elevated, this surgery may need to be performed sooner.
Here are some of the complications that may arise during the cataract-operation recovery period:
Cystoid macular edema (CME), or inflammatory swelling of the macular portion of the retina, can cause blurry vision, even in successful cataract surgery. CME can be treated with topical medications or with steroid injections in or around the eye. This can be diagnosed with the help of fluorescein angiography and optical coherence tomography (OCT).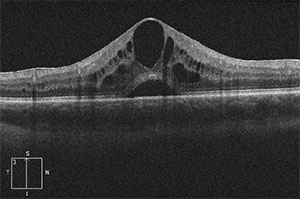 Endophthalmitis is an infection inside the eye. It can happen after any intraocular surgery and can be caused by a number of microorganisms. Inflammation and vision loss can occur in the post-operative period. This can lead to scarring, retinal detachment, and permanent vision loss. Treatment includes injections of antimicrobials into the eye (intravitreal injection) which can be done in the office. More severe infections may require vitrectomy surgery. The prognosis depends on the severity of the infection, the duration of infection, and the type of microorganisms present.

Choroidal hemorrhage is a serious complication where blood fills the space beneath the choroid layer of the eye (the level beneath the retina). Once this blood liquefies, vitrectomy (with or without drainage of this hemorrhage) can be attempted.